Profile
The city sits low key along the bank of the Hudson River with steep mountain ranges in the background. It is only 60 miles north of NYC and a half hour from prestigious
West Point
, but it could be on the other side of the world. It used to be known as the "All American City." During its heyday in the 50's, New Yorkers flocked there to shop on Broadway or to stroll down one of the wide promenades designed by the same architects who created NYC's Central Park. Much of George Washington's legacy was forged in the Hudson Valley. During the American Revolution, it served as the headquarters of the Continental Army. While the army was camped at
Newburgh
, some of its officers started a
conspiracy
to overthrow the government. Fortunately, General George Washington was able to convince his soldiers to stay loyal to him. As the River rose in importance, the mariners sailed from New York City up the Hudson River to Orange County, one of the premium growers of grain and wheat. Freight shipping stayed robust well into the 19th century. But then in the 60s, as the industrial base of the city declined,
Newburgh
fell victim to urban decay and became ravaged by drug dealers and prostitutes. The city had a higher murder and rape rate than NYC. As part of urban renewal, historic architecture was razed and sadly the city took a huge step back. The Revolution War was fought here – now there's the war on Drugs. As a juncture of two interstate highways, the north-south New York State Thruway and east-west Interstate 84, Newburgh became a crossroads of drug traffic among New York City, Upstate New York and New England. In order for Newburgh to rebound, public attitudes regarding crime and opportunities had to change. I was happy to stop here as I drove on Interstate 84 over the Hudson River. It was raining hard and I was ready to raise some beer and watch Matt Ryan connect to Julio Jones in the red zone. Whoo's Bar & Grill down the road from
Stewart Air National Guard
was where to go. With a name like Whoo's and an alert owl with green, googly eyes, who wouldn't stop here? Still reviewing the beer list, I ordered a glass of water but the bartender handed me bottled water. "We don't drink the water here," said Ingrid. "Really, what's in it?" "Lead, Chlorine, and other contaminants that could make you infertile or die before your kid grows up." "I've got plenty of lead in my system already – that's why my blood pressure is through the roof. And since my dental hygiene isn't all that great, chlorine saves me from getting an expensive root canal." "Oh it's way worse than lead and chlorine. There's stuff in this water that has proven to cause cancer. It's our little Chernobyl on the Hudson." Really, I thought to myself. I've heard of the murky, smelly water with high heavy metal in Flint, but didn't realize that there were other areas in the U.S. that had contaminated tap water. "Yeah, it's all because of the National Guard base across the street," said Ingrid as she pointed across the street. I looked over In the 1990s,
Stewart Air National Guard
base spilled foam used for fire fighting into the reservoir. The foam contained a dangerous pollutant called perfluorooctane sulfonate (PFOS), which has been 
linked to cancer
 and chronic kidney disease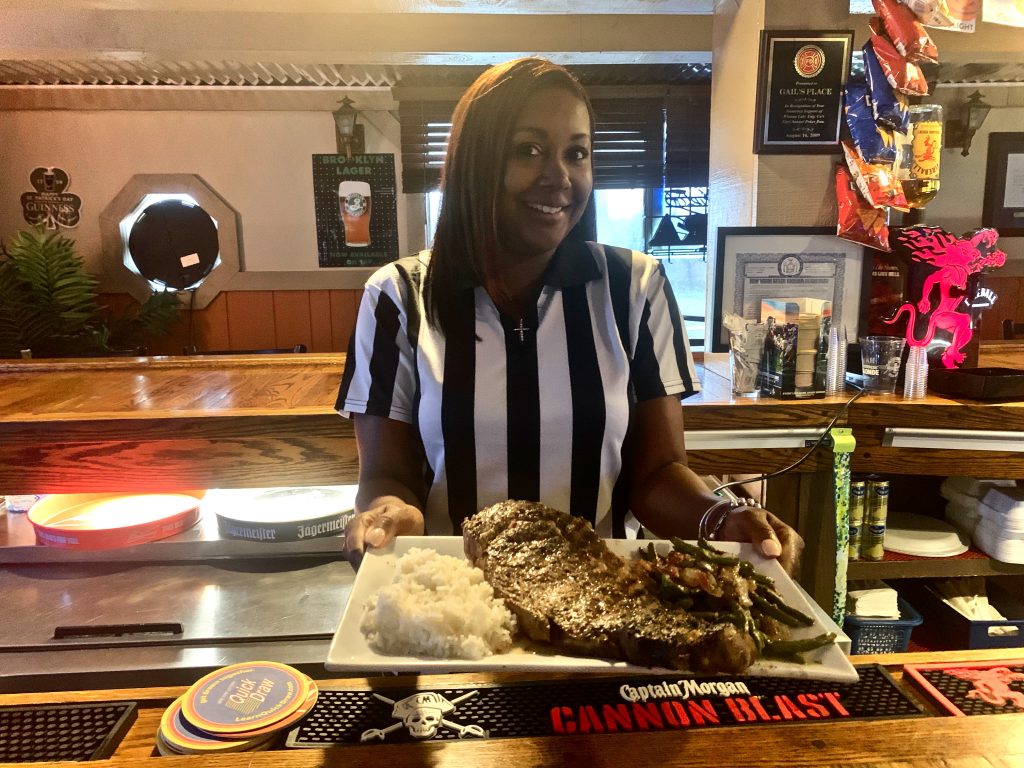 After hearing this, I was happy to drink the beer – you didn't need to twist my arm. I ordered a juicy ribeye cooked medium rare with white rice and string beans. This was washed down with a Coney Island Lager, a perfect pairing – not too heavy – just the right touch. "So how's the steak?" I looked up to see a brawny Black man, bald with a handlebar mustache and a mouche. "Seared perfectly," I answered delightfully. "Are you the owner." The brawny man nodded. "Jay Hamlet," he announced, extending his hand out for a firm handshake. "Pleasure to meet you. I was looking at some of the plaques you have mounted on the wall." "Yeah, my grandfather was a Tuskegee Airman and my father, Ben Lawson was the first Black police officer in Orangetown." "Really, like Spike's Black Klansman?" I said naively. I admired the decor on the wall and took a few minutes to read over the articles.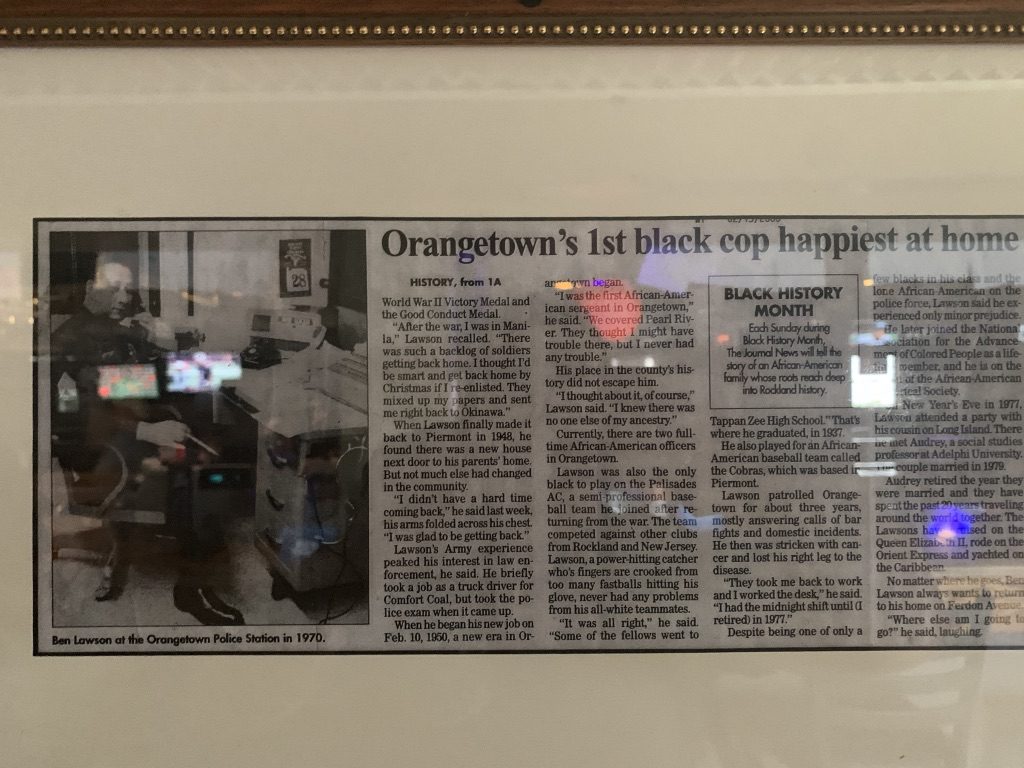 Now it was time to go – my Falcons had lost.
Reviews