Profile
K
earny is a suburb of Jersey City with not much to get excited for except trucking. If you're a trucker in NYC, you'll probably want to fuel up in Kearny before you cross the dreaded George Washington Bridge. If you're waiting until the wee hours of the morning to drive into Manhattan, you probably want to park overnight in Kearny because you'd be foolish to navigate the bustling streets of Gotham anytime before 3am.
For a truck driver visiting the Big Apple, Kearny is a staple for a hot meal, a warm shower, and a place to rest without getting ticketed or towed. NYC police are not kind to truckers and penalties aren't lenient either. And Kearny provides a lot more than basics = specialized services such as DOT Medical exams, Oil and PM services, Tires, and everything under the massive New York skyline
I was happy to fuel up at the New Jersey Truck Stop. 75 gallons got me a free shower, but not parking — it was one or the other. I figured I could always double park somewhere but if I didn't scrub this cake of dirt off my body, I would feel to grimy to sleep.
The shower lasted an eternity and by the time I scrubbed all my cellulite off I had worked up quite an appetite. A retro diner sat conveniently across the parking lot with the letters "Truck Stop Diner" emblazoned on a canopy. It was not affiliated with the Truck Stop, but got most of their clientele from there since they had bobtail parking, so I could move my rig without getting a warning from the Truck Stop security – I didn't want to pay $25 just to park for 12 hours.
When I asked my server if I could park overnight, she smiled kindly and her eyes rolled slightly.
"You're not supposed to. But we won't be here after 9 and if we're not here, we can't call someone to tow you."
They were surely used to truckers and our hectic parking regimen. In fact 100% of their clientele I noticed were truckers – they catered to our needs and they knew our preferences to the Tee.
After a nice, healthy portion of sirloin, rice and frijoles and a cerveza to wash down the extra lean steak, I was ready to find parking for the night. It was still early in the evening, and I didn't want to over occupy the space from the dinner crowd.
So I ventured off looking for an old-abandoned K-Mart that the server mentioned might be a good option. Unfortunately I zigged instead of zagged and drove by another truck stop called Tullo's.
This one is bigger and I saw a sign for authentic Spanish Food called Mana – someplace I would like to stop tomorrow before I pick up my load.
I stumbled upon a dive bar with the following sign.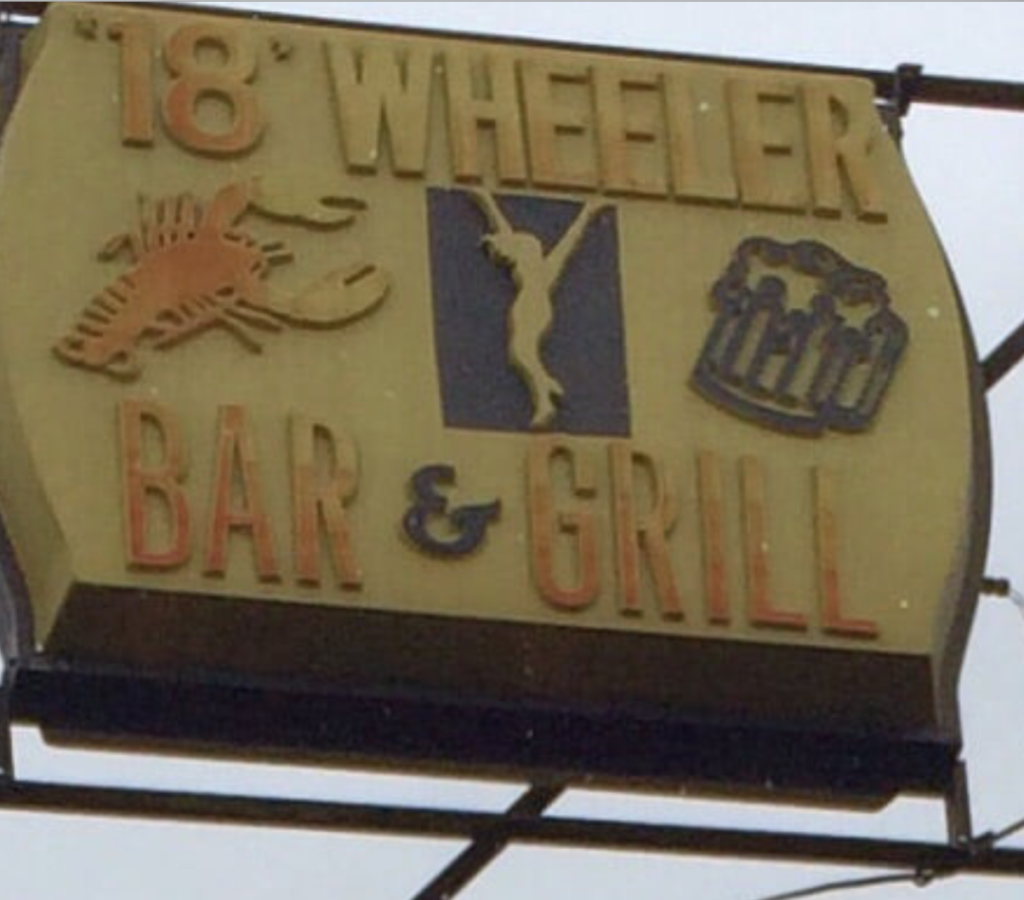 The sign is in keeping with the theme of the town, that almost everything here caters to truckers, our needs and our tastes. Perhaps it once was a go-go bar, but today, it's just a crusty dive bar
I parked next to a half dozen trucks – a couple bobtails and a couple sleepers with 53′ trailers idling like a rough sea. I noticed that there were more trucks than passenger cars and even the customers who weren't driving trucks, just happened to be truckers or associated with the industry.
The place was run by Manny Pastor the owner and Vanessa the bartender. They're nice people, but I must have caught Manny on a bad day, because he was acting kinda grouchy. Maybe the Mets were losing again, or he was just too tired dealing with us truckers. I wouldn't be surprised that once upon a time, he sat behind the wheel, and he was feeling nostalgic.
The beer was cheap – $2 Michelob cans and like the Diner, had nice-priced dinners with healthy servings. I ordered a Jim Beam with ginger ale – sweet and strong. A patron next to me was munching on jalapeño poppers, which I could tell was spicy hot considering he downed a 12-ounce mug of MGD-64 in minutes. Manny makes a mean homemade hot sauce comprised of a mixture of regular hot sauce with jalapenos and fresh peppers. Douse it on a roast pork sandwich and you have a killer meal.
A couple of old-timer pool-sharks behind me were shooting a slow, calculated game. One wearing a well-worn trucker hat, greasy blue jeans and Star Western Cowboy boots. There was only two flat screen TVs – one showing baseball, another soccer, and it was clear that there was much more interest in NYC FC than in the Mets or Yankees.
Soon the excitement had caught up with me, and it was time to retire for the night. I didn't have a hotel and there was no need to call a Uber. My rig was parked securely in 18 Wheeler Bar & Grill and me along with a half dozen truckers as well as a family of resilient alley cats slept soundly for the night.
Reviews