Profile
I arrived in Columbia, SC on Saturday, after stopping at Kenly 95 for the Truckers Jamboree. My 10-speed shifted smoothly on the newly-widened I-20 like a knife on hot butter. Parking was tight at the Flying J, but I was able to snag a premium spot by the trucker's chapel for free. Even though the spot said "Reserved", the Fuel Desk told me, they only charged for the spots near the pumps.
On Sunday, I caught a 11 bus on the Soda Cap Line to downtown. Main Street was buzzing with outdoor diners on Mother's Day. I found a nice Jazz & Tapas bar called The Joint at 1710 Main. I walked next door and found an arcade bar that I couldn't pass up. And with a name like Transmission, it was my destiny.
"Welcome to Transmission, what you having?"
"Something local, please," I responded jovially.
"Well, wee have a wonderful dry stout from Charleston, a lovely wheat beer from Savannah and a Columbia Craft lager," said Marge, the bartender.
"Super, I'll have the Columbia Craft Lager." I was always partial to local beers, especially from the Carolinas.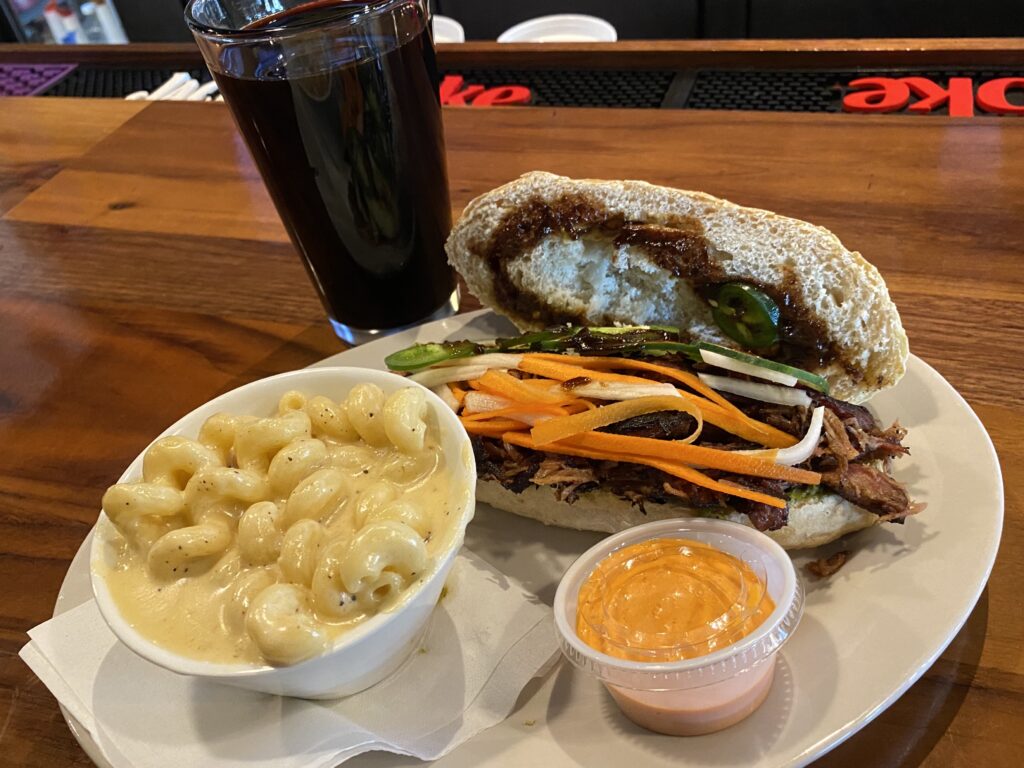 I ordered a Five-Spice-Rib Banh Mi, America's hottest sandwich trend. The Vietnamese sandwich was crunchy, with a healthy serving of pulled pork, carrot, slices of cucumber and smoked pepper mayo and a generous sprinkling of cilantro leaves
A patron next to me ordered the smothered fries – bacon and sunny side up egg over a healthy serving of hand-cut fries.
After my hearty meal and savory rib on a crusty and soft baguette, I was ready to hit the arcade.
I was met by Josh "JR" Rainwater, one of the owners.
"Wow, you have a great selection of machines -both modern and classics – how long did it take to acquire them?"
"A few years, we've been buying and trading games for a while. We focus on a balance of pinball machines as well as classic titles like pacman, frogger, donkey kong, etc."
"That's great, so you guys opened recently."
"Yes, we opened on March 2020, so we're as old as the Pandemic," responded JR.
I took a shot at NBA Fastbreak and enjoyed the fact, that the game was scored just like a basketball game – 2 and 3 points into a basket with a shot clock. And if you get fouled, you get to make a free throw in the back glass. 
After playing several quarters of Fast Break as well as the equally-exciting Simpson's game, I had turned my anxiety into excitement. Pinball is not just about reminiscing the good ole days – it's great fun and I also managed to break a sweat.
Reviews