Profile
I arrived in York to pickup my trailer at the Landstar drop lot. My Stop Warning light had other plans. So I parked downtown and decided to get something to eat at the Fig & Barrel Pub.
Along the stucco wall sat orange leather banquettes, firm and buttressed. On both sides of the fireplace were two faux skeletons dressed in a party hat and shades. I can imagine many cold winters nestled by the hearth wearing a cozy sweater and a watch cap, sipping on a warm Old Fashioned while adoring the whiskeys along the wall.
Fig & Barrel has plenty of scotch, bourbon and rye, and if you're not sure what to order, just ask the loquacious bartender, and he will explain in detail their boozy library – floor to ceiling rows of spirits, enough to last through the starkest of winters.
As soon as I sat down, I was greeted by Rita. She was really personable and I found out she is from Angola and is studying Comp Sci at Penn State.
The short ribs were indeed fantastic. "They are cooked overnight so they literally fall off the bones. Marinated in a red wine reduction sauce and served over garlic mashed potatoes," said Rita.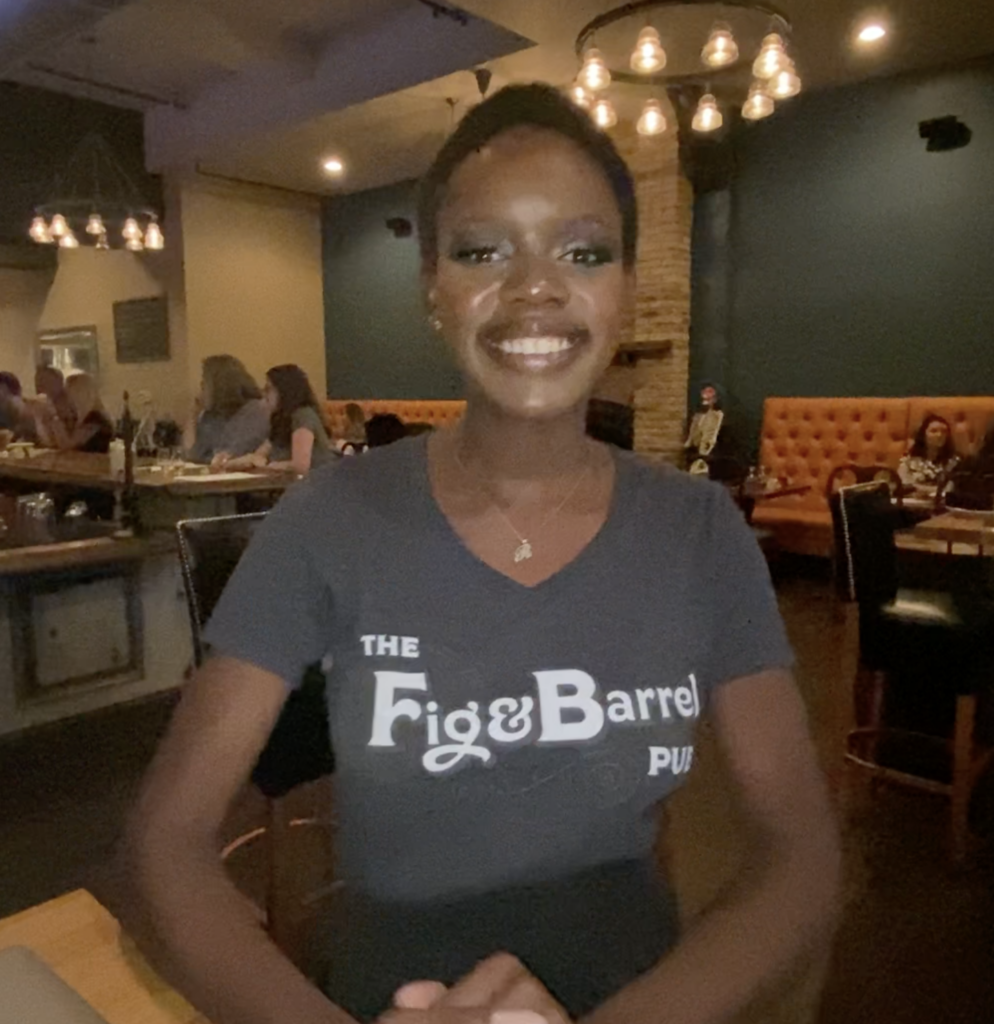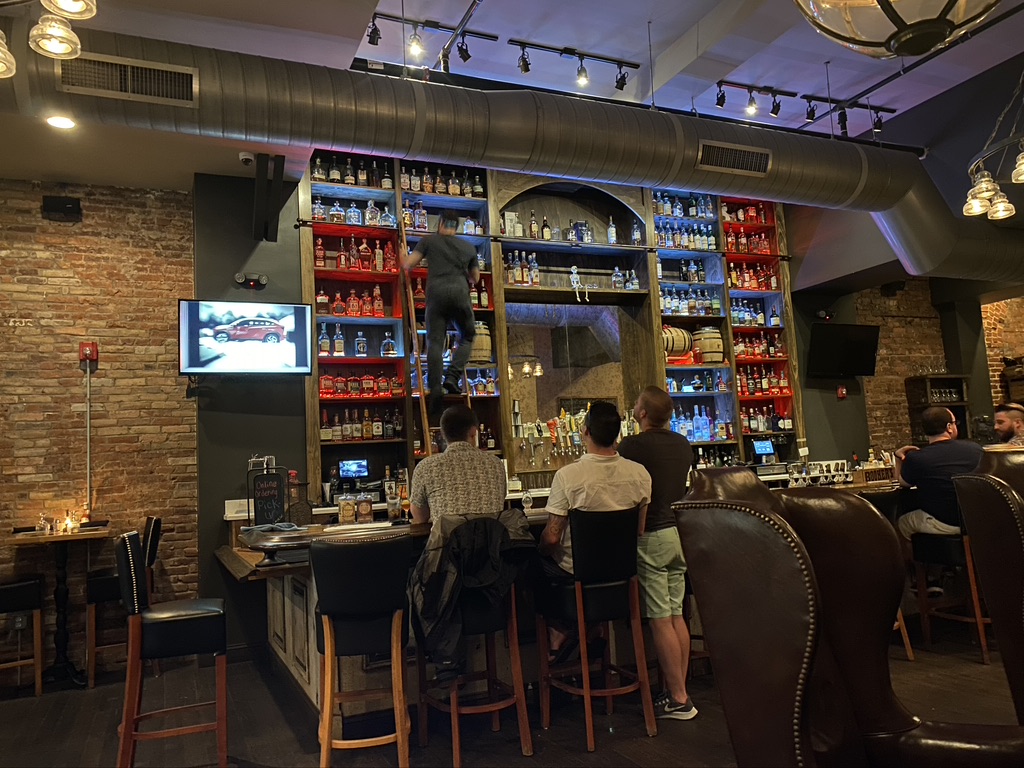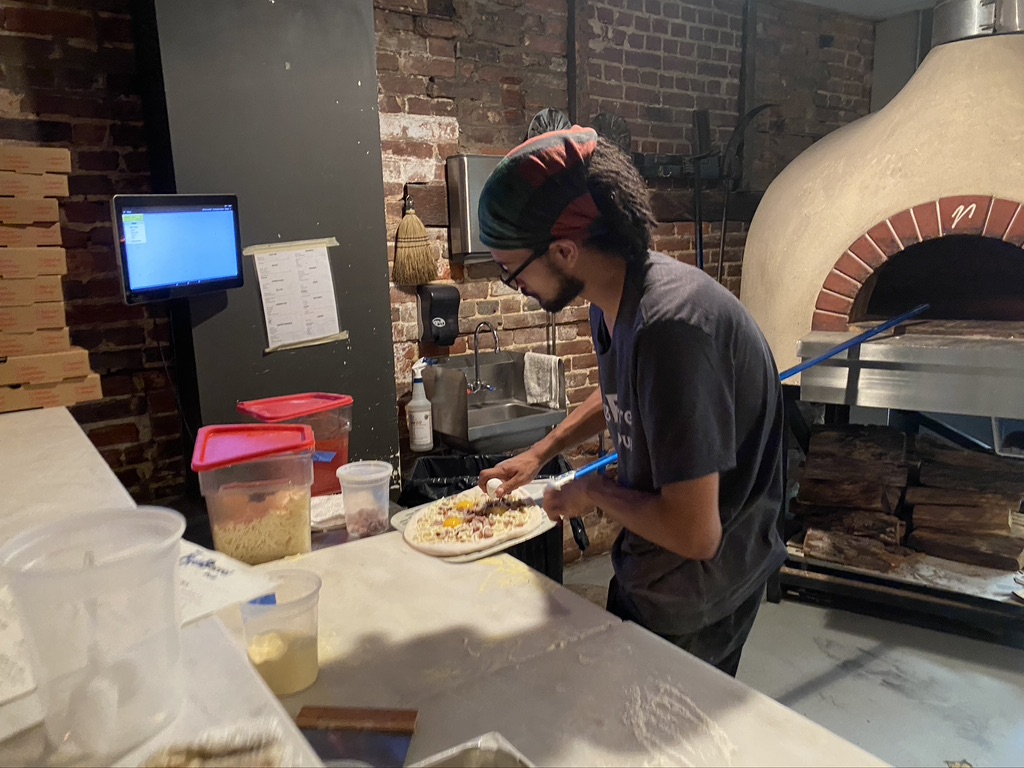 Lisa's family bought their Neopolitan-style pizzas from Naples over 50 years ago. Lisa Coppola worked in her father's Italian restaurant and that's where she met Nathan who was aconnoiseur of whiskey. Pizza runs through her veins. A culinary wizard and baking expert, she was born to do this. So "Fig" reflects Lisa's culinary heritage while "barrel" refers to Nathan's expertise and how spirit is aged.
"Our scratch kitchen focuses on authenticity, from dry aging cuts of steak in house to using our wood burning oven to bake true sourdough bread and Neapolitan style pizza." said Lisa
At Fig & Barrel, there is a wide range of smoky whiskey to enjoy, from light and crisp to bold and heavy that delivers a big, smoky punch to the face.
Last year, during the Superbowl, a rowdy patron began arguing with the pub staff to the point that they paid his tab and asked him to leave.
The patron, Alexis Pillot decided to take things into his own hands and started attacking Nathan and another customer with a knife.
Pillot stabbed an intervening employee, opening a large gash that ran from the top of his head down his cheek.
Next Pillot coldcocked Nathan before they contacted police. Luckily the York City police was just a block away. It took six officers and two blasts from a Taser to handcuff Pillot.
And thankfully the courageous acts of the Fig & Barrel staff and customers prevented the attacker from making things worse.  Saluti!
Reviews