Profile
I wasn't supposed to be in SC for long. Quick drop-n-hook then a lazy load to Florida. But shippers and receivers had other plans. Sage Automotive decided to close early on Saturday, The gates firmly slammed closed. The guard sadly informed me that I had to wait till first thing Monday. Now I'm stuck here. What did Spartanburg have in store for me? A charming Southern town with lots of good eats and warm hospitality.
Spartanburg, a small town located between Greenville and Gaffney is going through major revitalization as many millennials and small town natives are moving to America's small towns.
And when I discovered Main Street, I was impressed with the vibrant street scene with a live band by Morgan Square in front of Delaney's.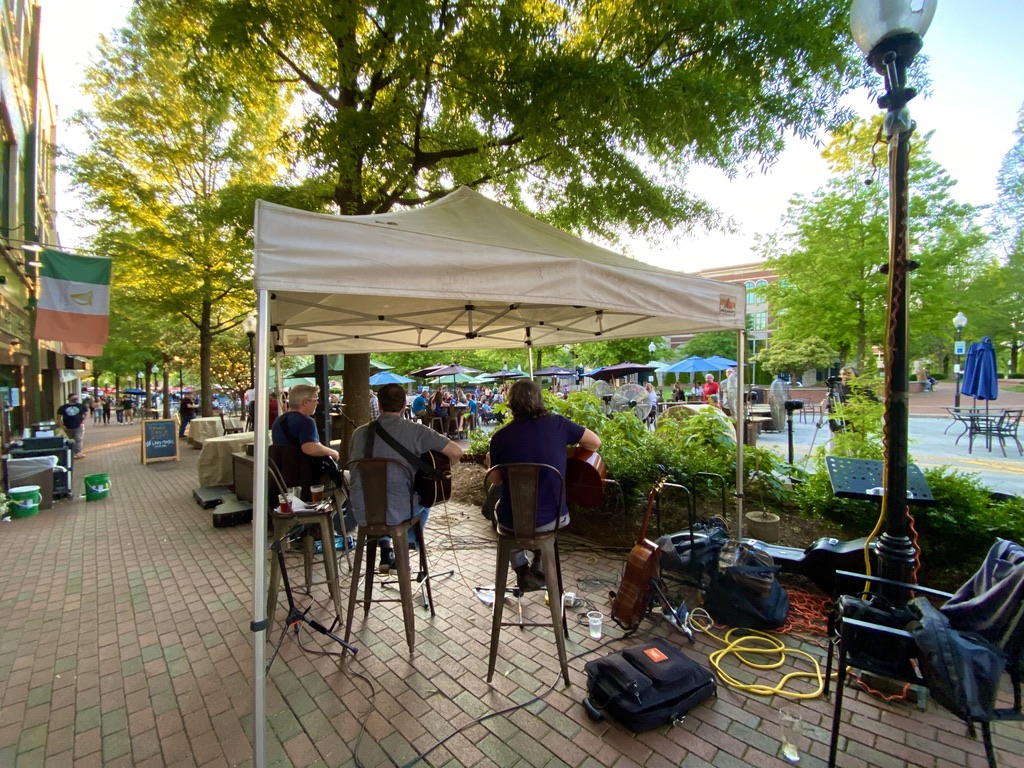 Since the Irish bar was packed, I decided to check out the lounge next door – UnderPin Lanes 'N Lounge. I walked down the steps, not knowing what to expect. I wasn't in the mood for striking down pins, but I could definitely order a designer cocktail or a craft beer.
It was a nice, relaxing lounge feel and I immediately sensed a good vibe.
"Hi, real sweet lanes you got here. Love the pinstripes and the low lights" I mentioned, commenting on the pinstripes on each lane.
"Yeah, we opened in December 2019, it's designed to look ultra modern, a place where you can bowl a few frames, relax, grab some chicken nachos, some cold beverages and hit another strike," the bartender replied.
"Yeah, what a rad setup. Love the bar and lounge also. This is the most modern, boutique bowling alley, I've ever visited," I added.
"Thanks, we had a challenging first year due to the pandemic, so we're glad to be back open and we've been busy this spring. Where are you from?"
"Washington, DC. I'm a truck driver. My load was rejected today, so I'm here now trying to make the best of it."
"Cool, you'll love the friendly nature and warm hospitality of the Sparkle City. I'm from Kentucky, myself, and I'm glad I moved here four years ago."
"Right on, I love the Bluegrass State. I was in Louisville last year.
"Kentucky"
"Really I was in Louisville last year. Visited the Galt House, and loved the history."
"That's a fantastic place to visit. Our building has lots of history behind it, also."
"Is that right? was this place an old warehouse or something?" I took an educated guess.
"Pretty close. It was actually a furniture store in the 40s. Then it got destroyed by fire and when it reopened it was a department store until the 90's. You know Spartanburg had a vibrant textile industry. Then a series of night clubs. The place has been vacant since 2015."
"Interesting background, and a bowling alley is the last thing I would expect here, but the concept seems to work."
"So what are you drinking?" the bartender finally asked.
"Well It's a bit warm outside, so perhaps something to quench my thirst and to lift my spirits."
"Great a Bold Rock watermelon cider coming right up."
The friendly bartender poured my drink and offered her hand. "I'm Amanda, welcome to UnderPin and hope you enjoy your visit to Spartanburg."
Reviews